Bistro Casanova's new Alelele Room is the ideal setting for corporate meetings, private events, birthday parties, rehearsal dinners, wine tasting, lunch or afternoon gatherings. Bistro Casanova's Private Room has been chosen by many private and corporate planners for such events, from lunch to cocktails hours to dinner.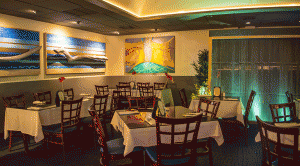 Its proximity to Kahului airport, in the heart of Maui's commercial hub, the virtually unlimited parking and its artsy elegance make it a perfect choice for small private gatherings, as it can hold up to 50 guests comfortably.
We offer free Wi-Fi and a professional screen for projections. We can also help with the rental of a professional projector.
Bistro Casanova's exciting selection of tapas is available for cocktail hours.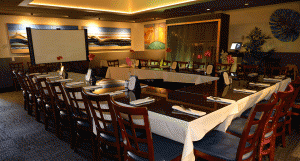 We offer prefixed menus served 'a la carte' as well as Buffet options or Family style dinners. Our group menus start at $25 per person for lunch and $35 per person for dinner. Minimum Buy Out prices apply.
Please contact us at (808) 873-3650 or email us at bistrocasanova@gmail.com and we'll be glad to tailor our menus to your budget and preferences.
Bistro Casanova
Mediterranean Cuisine
33 Lono Avenue,
Kahului, Maui
Phone:(808) 873-3650